Now this is the story all about how
My life got flipped, turned upside down //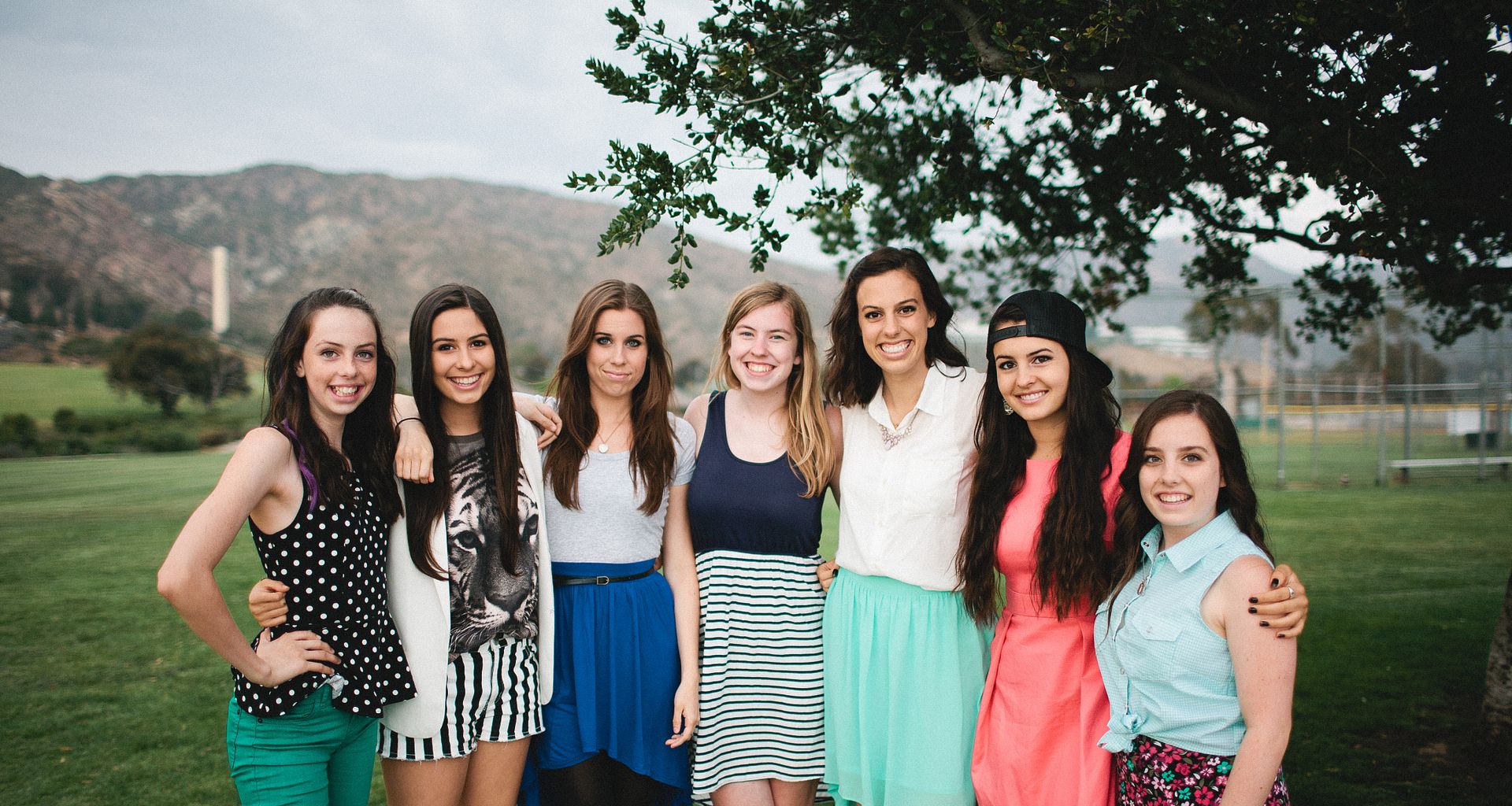 I was driving somewhere with a friend. Or maybe I was sitting in her room, it doesn't matter. She turned on "Price Tag" by Jessie J. It was the first time I had heard it, and I liked it. I'm a big fan of music.

I proceeded to forget about the song (typical) and a few months later, it popped back into my mind. I did a quick google search of the lyrics I remembered, and some YouTube videos came up. One was of a group of girls singing it, they reminded me a lot of my sisters + I. I clicked on the link.

The next hour passed quickly as I watched every video these girls had put out. Covers of popular songs, sung by these six talented and incredible girls. Their YouTube channel, Cimorelli, was small, but I was in love. I followed them for the next year and a half. I watched them get bigger, put out more covers, make more videos, do some interviews here and there, hit 1 million subscribers. I felt like I knew them personally. I was insanely proud of them. My heart couldn't handle the pressure. ;)

I went to Guatemala, and came back thinking a lot about big dreams and big things in general. And in the fall of 2012, that's when the thought popped into my head. I want to photograph the Cimorelli girls. WOW. Okay then Ellie. Let's put that out front and center and chew on it. How in the world is that going to happen?

I began brainstorming. I could tweet at them, they sometimes responded to fan's tweets! But then there's the issue that I'm a complete stranger saying, "Hey let me photograph you!" Creepy. So I went on Facebook. And randomly typed in the name of the oldest girl in the search box. Her personal Facebook page came up. ("Great, let's friend her! No that's not even an option.") I smiled as I looked at her profile picture, it was of her and her boyfriend. The Cimorelli girls graced her cover picture. They were so cute. Dang, I just want to photograph them. And then, my eye caught the friends box. "You have 1 Mutual Friend with Christina Cimorelli." What the heck, what. Turns out that I had gone to Guatemala with a girl who was friends with Cimorelli. I kind of started freaking out.

Here's how the conversation went.

Me: Hey! So, I randomly saw on Facebook that you are friends with Christina Cimorelli. How do you know them?
Her: We were neighbors growing up!
Insert internal screaming. How does this happen? God. God makes this stuff happen.
Me: No way! That's so cool! Well, the reason I'm asking is because I have wanted to photograph them for a while. They remind me of my sisters + I, and I just really love them. I was surprised to see I had a mutual friend with them!
Her: Oh that's so awesome! Well, I would love to put in a good word for you next time I see her!

At this point I started crying. And thanking God for friends who really care about my dreams. My friend did indeed talk to Christina, and I began a conversation with the Cimorelli girls. The girls I had watched on YouTube. The beautiful, humble, and talented girls. And they wanted me to take their pictures.

I went to Santa Barbara, California in January, and it didn't work out for me to take their pictures then. I was bummed. I was sad. But I knew it was going to happen, when it was supposed to. I messaged them again in April saying, "Hey! I'm coming in May!" They were up for it. I was freaking out. It's actually happening.


After a lot of communication, and a few close calls of "maybe this isn't going to work," on May 10, 2013, my friends from California, my best friend Ashley, and I drove to Malibu to meet the girls. My heart was beating fast, and I kept going over photo ideas in my head, praying that the shoot would be blessed and I wouldn't forget anything. Ashley + I got out at the park, and waited for them to come. She did a good job of keeping me levelheaded, I would have gone crazy otherwise. ;)

And then they pulled up, we shook hands, laughed, chatted, and took pictures. It was a crazy whirlwind experience and it happened. I am so forever grateful that it happened.

I know a lot of you have been waiting for the story + pictures. Thanks for your patience. ;) I can't share the pictures yet. Hopefully soon. But I wanted to share the story because I think sometimes, we get discouraged because we all have these big dreams that seem unreachable. Nothing is impossible with God. He puts those dreams + desires in our hearts for a reason. Sometimes things click in a way that surprises us, that we didn't see coming. That's Jesus doing His thing. It's pretty cool to watch.

I want to thank all of my friends involved in this story, because without them, it wouldn't have happened either. Taylor, Lauren, Tiffany, Ashley, thanks. You guys really do rock.

And that's my story.